Round basket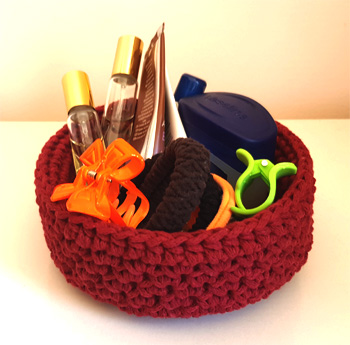 The following is the crochet pattern for this elegant design basket. It's very paractical and can be used to store different things.
The basket is easy to make and works up pretty fast. The following pattern si suitable for beginners.
It suits very good as a gift. Also, this item is something that can be sold at a craft fair, if you happen to participate in one.
You will need:
Cotton yarn: I used Yarnart macrame cotton
Hook: H / 5.0mm
Needle (optional) for sewing the inner part
You can use a stitch marker for tracking rows
Abbreviations:
sc - single crochet
inc - increase (two single crochet in the same stitch)
hdc - half double crochet
(..) - represents the sequence that will repeat
x and number - the number of times to repeat a sequence
[..] - the number between square brackets is the number of loops at the end of row
Notes:
The pattern is written in US terminology.
Basket base:
Row 1: 6 sc in magic circle - [6]
Row 2: (inc)x6 - [12]
Row 3: (sc, inc)x6 - [18]
Row 4: (2sc, inc)x6 - [24]
Row 5: (3sc, inc)x6 - [30]
Row 6: 2sc, inc, (4sc, inc)x5, 2sc - [36]
Row 7: (5 sc, inc)x6 - [42]
Row 8: 3sc, inc, (6sc, inc)x5, 3 sc - [48]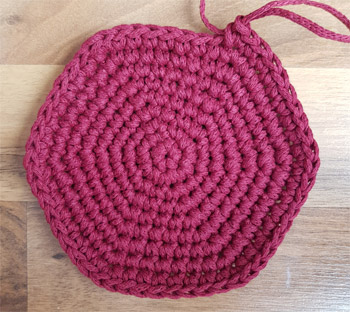 Next, continue with the work on the height.
Rows 9-14: (2 sc in the same stitch, skip one stitch) - [48]
Row 15: hdc in all stitches around - [48]
Row 16: (sc in the third loop of the previous hdc) in each stitch around - [48]
Rows 17-23: sc in each stitch around - [48]
You can sew the inner part onto the bottom if you like.