Coasters - watermelon design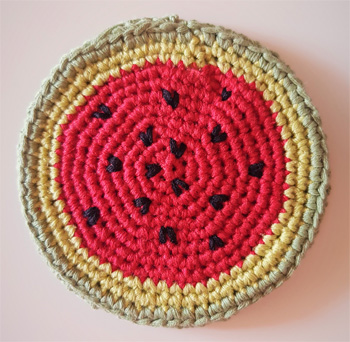 The watermelon design on this coasters makes them very nice. :)
This project is very quick and easy to make. Also, it doesn't require much yarn. So, it's a great way to reuse that scrap yarn we all keep after completing a bigger project. ;)
In this pattern, I make two sides; following the same steps and then sew the parts together. I like to use this technique because the final coaster can be used on both sides.
I have used:
Cotton yarn: red, light green, dark green and some black for the seeds
Hook: 3.5mm
Needle: for sewing the two sides together
Abbreviations:
sc - single crochet
sl st - slip stitch
inc - increase (two sc in the same stitch)
(...) - represents the sequence that will repeat
x and number - the number of times to repeat a sequence
Notes:
If you use different types of yarn and hook size than the ones specified above, then you probably need to adjut on how many rows you make, so that the final coasters should have about 4 inches (10cm) in diameter.
The pattern is written in US terminology.
Coaster:
Start with the red yarn:
Row 1: 6 sc in magic circle - [6]
Row 2: (inc)x6 - [12]
Row 3: (sc, inc)x6 - [18]
Row 4: (2sc, inc)x6 - [24]
Row 5: (3sc, inc)x6 - [30]
Row 6: 2sc, inc, (4sc, inc)x5, 2sc - [36]
Row 7: (5 sc, inc)x6 - [42]
Row 8: 3sc, inc, (6sc, inc)x5, 3 sc - [48]
Switch to light green color yarn
Row 9: (7sc, inc)x6 - [54]
Row 10: 4sc, inc, (8sc, inc)x5, 4 sc - [60]
Switch to dark green color yarn
Row 11: sc in each stitch around - [60]
Weave in ends.
Take a long thread of black yarn and sew some seeds.
Make two of these and then sew the two parts together.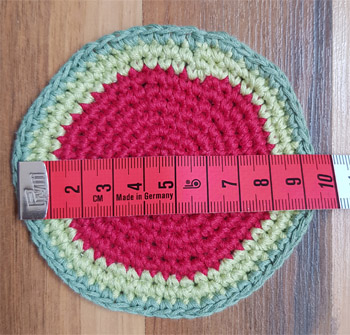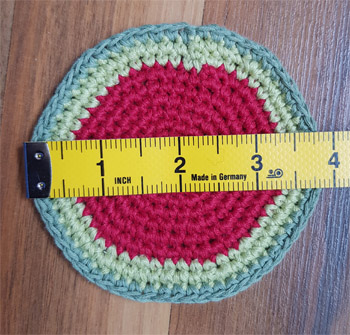 Done!
Enjoy your new coaster! :)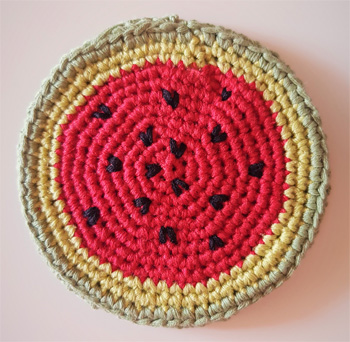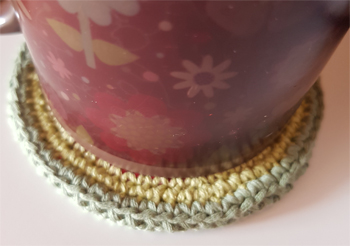 Hope you liked this tutorial! :)