Flower brooch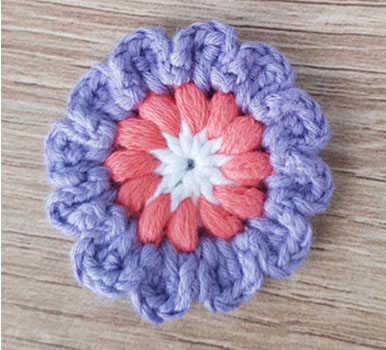 Crochet flower pattern
This flower is very easy to make.
You can add a pin to make it a booch or just an applique for different other items used for design enhancement.
Find more free patterns: www.byoana.com
You will need:
Cotton yarn: white, pink and purple - I used Alize Bella yarn
Hook: 1.6mm
Abbreviations:
dc - double crochet
puff - puff stitch
hdc - half double crochet
(..) - represents the sequence that will repeat
x and number - the number of times to repeat a sequence
[..] - the number between square brackets is the number of loops at the end of row
Notes:
The pattern is written in US terminology.
Puff stitch:
Yarn over, insert hook and pull up one loop. Repeat this three times inserting hook into the same space. Yarn over and pull loop through all loops on the hook. Chain one
Flower:
Start with white color and make a magic circle Make 12 dc in magic circle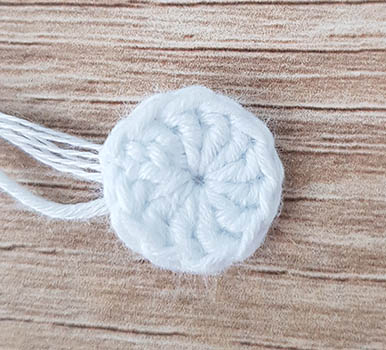 Attach pink color and make 1 puff stitch and 1 ch in between each dc of previous row.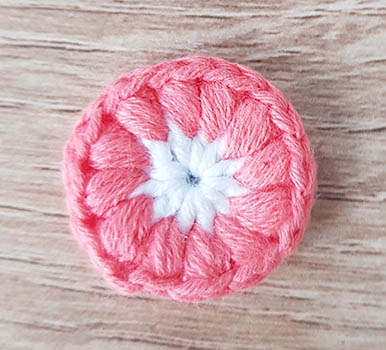 Attach purple color in between two puff stitches of previous row
(ch 2, 3dc) into the same space
(1dc, ch2, sl st) into next stitch - the stitch on top of the puff stitch from previous row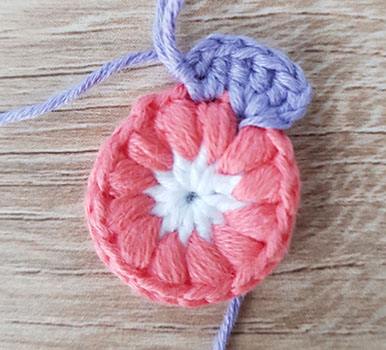 Repeat the following sequence until end:
(sl st, ch 2, 3dc) in the space between puff stitches
(1dc, ch2, sl st) into next stitch - the stitch on top of the puff stitch from previous row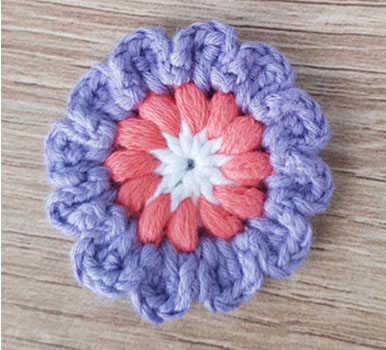 The flower is now done. Weave in ends and sew a pin on the back if you'd like to make a brooch. :)