Easter egg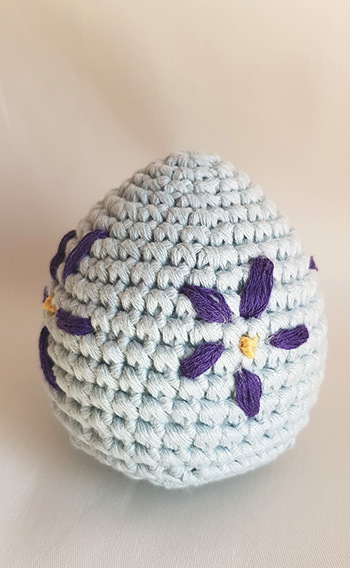 This egg it's the perfect item to make around during Easter time.
The egg pattern is very easy to follow.
The pattern is written in US terminology.
Check out the matching items to complete the Easter decoration set: Easter patterns
You will need:
Cotton yarn: choose your prefered colors
Hook: according to yarn specifications; I used a 2.5mm hook
Filling: for stuffing the body
Needle: for sewing the model
Abbreviations:
mc - magic circle
sc - single crochet
inc - increase (two single crochet in the same stitch)
dec - decrease (single crochet two stitches together)
(..) - represents the sequence that will repeat
x and number - the number of times to repeat a sequence
[..] - the number between square brackets is the number of loops at the end of row
Egg:
Row 1: 6 sc in magic circle - [6]
Row 2: (inc) x6 - [12]
Row 3: sc - [12]
Row 4: (sc, inc) x6 - [18]
Row 5: (2 sc, inc) x6 - [24]
Row 6: sc - [24]
Row 7: (3 sc, inc) x6 - [30]
Row 8: sc - [30]
Row 9: (4 sc, inc) x6 - [36]
Row 10-15: sc - [36]
Row 16: (4 sc, dec) x6 - [30]
Row 17: (3 sc, dec) x6 - [24]
Row 18: (2 sc, dec) x6 - [18]
Row 19: (1 sc, dec) x6 - [12]
Fill the egg.
Row 20: (dec) x6 - [6]
Sew the ending loops and weave in ends.
Decorate it by sewing the prefered models.
Done!
If you follow this pattern and share your finished item, please tag me @crochetbyoana on Instagram. I would love to see how it turnes out for you! :)